Jericho, Palestinian Territories, - Saudi Arabia, which has engaged in U.S.-brokered talks with Israel to potentially normalize relations, Tuesday sent a delegation to the occupied West Bank for the first time in three decades.
It was led by the Saudi non-resident ambassador to the Palestinian territories, Nayef al-Sudairi, who was to meet Palestinian president Mahmud Abbas and top Palestinian diplomat Riyad al-Maliki.
Sudairi, the oil-rich kingdom's envoy to Jordan, was last month also named for the Palestinian territories post and appointed consul general for Jerusalem.
The delegation, which crossed overland from Jordan, was the first from Saudi Arabia to visit the West Bank since the 1993 Oslo Accords, which had aimed to pave the way for an end to the Israel-Palestinian conflict.
The Saudi visit comes as Washington has been leading talks between Israel and Saudi Arabia - guardian of Islam's two holiest sites - on a normalization that would mark a game changer for the Middle East.


Abbas to UN: No Mideast Peace Without Palestinians' Rights 
The talks include security guarantees for Saudi Arabia and assistance with a civilian nuclear program, according to officials familiar with the negotiations who spoke to AFP on condition of anonymity.
Israel in 2020 established ties with the United Arab Emirates, Bahrain and Morocco, but Saudi Arabia has so far refrained from following suit until Israel's conflict with the Palestinians is resolved.
However, the Saudi crown prince and de facto ruler, Mohammed bin Salman, last week said the two sides were 'getting closer.'
In recent months Israel has sent delegations to Saudi Arabia to participate in sports and other events including a UNESCO meeting.
Strong reservations
Israeli Prime Minister Benjamin Netanyahu told the United Nations on Friday that he believes 'we are at the cusp' of 'a historic peace between Israel and Saudi Arabia.'
Netanyahu Gets Coveted Biden Meeting on General Assembly Sidelines  
Abbas, 87, had earlier voiced the Palestinians' strong reservations.
'Those who think that peace can prevail in the Middle East without the Palestinian people enjoying their full, legitimate national rights would be mistaken,' he told the U.N. General Assembly.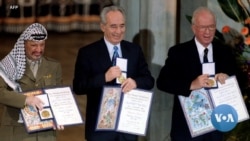 Embed share Israelis and Palestinians Mark 30 Years of Oslo Embed share The code has been copied to your clipboard. width px height px
No media source currently available
The 1993 Oslo Accords were meant to lead to an independent Palestinian state, but years of stalled negotiations and deadly violence have left any peaceful resolution of the conflict a distant dream.
A recent escalation in violence has seen at least 242 Palestinians and 32 Israelis killed in the conflict so far this year, according to official sources on both sides.
Israel Forces Kill 2 Palestinians in West Bank Raid - Hamas, Emergency Workers
The United States, which has brokered talks between Israel and the Palestinians in the past, has made no major push toward a two-state solution since a failed effort nearly a decade ago.
Netanyahu's hard-right government has meanwhile been expanding Israeli settlements in the West Bank which are deemed illegal under international law.
Israel has occupied the West Bank since the 1967 Six-Day War and later annexed east Jerusalem in a move not recognized internationally.
The military also maintains a blockade on the Palestinian coastal territory of Gaza, which is ruled by militant group Hamas.
Prince Mohammed, speaking with U.S. network Fox last week, said that the kingdom was getting 'closer' to a deal with Israel but insisted that the Palestinian issue remains 'very important' for Riyadh.