Pentagon - Iranian-backed proxies have attacked U.S. forces in Iraq and Syria at least 150 times since President Joe Biden took office, two U.S. defense officials tell VOA.
More than a third of those attacks have occurred in the last month, marking a clear surge in violence against U.S. forces in the region.
Asked on March 28 about the number of Iranian-backed attacks on U.S. forces in the Middle East during the Biden administration, Defense Secretary Lloyd Austin told members of the Senate Armed Services Committee that there had been 83 attacks.
US Forces Suffer Traumatic Brain Injuries in Deadly Iran-Backed Attacks in Syria
Defense officials told VOA on Friday that Iranian proxies carried out seven attacks on U.S. troops in Iraq and Syria between March 29 and October 17.
There have been 61 additional attacks against U.S. forces there since October 17, including attacks at three U.S. bases Friday. A one-way drone attack at Tal Baydar in Syria on Friday damaged infrastructure at the base and wounded one service member, who was medevaced off base but has since returned to duty.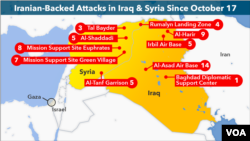 There have been 61 attacks against U.S. forces in Iraq and Syria since Oct. 17, 2023, according to U.S. defense officials.
Most of the attacks since October 17 were disrupted by the U.S. military or failed to reach their targets, causing no casualties or damage to infrastructure, according to the military. But a handful of attacks have left more than 60 U.S. military personnel with injuries, ranging from shrapnel wounds to perforated eardrums and traumatic brain injuries. Officials say all of the injured have returned to duty.
One U.S. contractor at al-Asad Air Base in Iraq suffered a cardiac episode and died while sheltering in place during a false alarm for an air attack.
The Middle East has been a tinderbox since Iranian-backed Hamas launched a terrorist attack on Israel on October 7, killing at least 1,200 people while taking about 240 people hostage, Israel says. Israel's retaliatory strikes and ground offensive have killed more than 12,000 Palestinians - about 5,000 of them children - according to the Hamas-run Gaza Health Ministry.
But former and current officials say that the situation in Gaza is not the driving cause of the attacks on U.S. forces.
'[Iran's] primary goal remains the ejection of the United States from the region. And that's the reason these attacks are spiking up,' Retired General Kenneth 'Frank' McKenzie, the former head of U.S. Central Command, told VOA this week.
The U.S. has increased its presence in the region to protect the roughly 2,500 U.S. troops in Iraq and 900 in Syria and to deter malign actors including Iran and its proxy militias, the Houthis, Hezbollah and others from expanding the Israel-Hamas conflict.
Is deterrence working?
The Pentagon has responded to the attacks over the past month with three rounds of retaliatory strikes in Syria against facilities used by Iran and its proxy forces. Precision munitions fired from U.S. fighter jets hit two facilities in Syria in the early morning hours of October 27, a weapons storage site in Syria last week, and a training facility near Abu Kamal and a safe house near Mayadin on Sunday.
Iran has continued its attacks following each U.S. strike.
When asked by VOA whether military deterrence was working, Pentagon deputy press secretary Sabrina Singh said Tuesday, 'We feel that it is.'
'We have not seen this war spread into a wider regional conflict,' Singh told reporters in response to a question from VOA. 'The strikes that we are taking is to signal and to message very strongly to Iran and their affiliated groups to stop.'
U.S. Senator Lindsey Graham, a Republican from South Carolina, told reporters Tuesday the U.S. is lucky that no Americans have died directly from the attacks over the past month.
Graham is part of a bipartisan group of senators who introduced a Senate resolution this week urging the administration to keep all options on the table when it comes to deterring Iran and its Islamic Revolutionary Guards Corps, including the use of military force.
'If Iran continues to threaten our troops in Syria and Iraq, the right response militarily would be, in my view, to hit the IRGC training bases and infrastructure inside of Iran,' Graham said.
'Iran is a toxic, malign force,' said Senator Richard Blumenthal, a Connecticut Democrat, who is also sponsoring the resolution.
A spate of attacks from Iranian-backed militants in March killed a U.S. contractor in Syria, caused traumatic brain injuries in 23 military personnel and wounded 25 U.S. military personnel, according to the Pentagon.
The Pentagon responded with airstrikes against Iranian-backed facilities in Syria, much like the strikes carried out by U.S. forces in recent weeks.